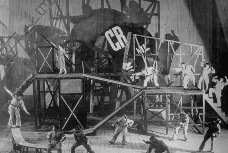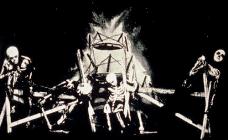 Surrealism-Plays is a site devoted to the history and creative works of the Surrealist Movement, as well as the anti-tradition of avant-garde theatre.
AVANT-GARDE PLAYWRIGHTS
There has been a long and rich history of Avant-Garde Theatre. Below are bios for some of the writers whose works, in one way or another, challenged tradition and courageously pushed the boundaries of the norm.
Contents:
Kobo Abe
,
Arthur Adamov
,
Guillaume Apollinaire
,
Fernando Arrabal
,
Antonin Artaud
,
Samuel Beckett
,
Bertolt Brecht
,
Georg Buchner
,
Robert Desnos
,
Richard Foreman
,
Michel de Ghelderode
,
Ivan Goll
,
Eugene Ionesco
,
Alfred Jarry
,
Georg Kaiser
,
Tadeusz Kantor
,
Oskar Kokoschka
,
Federico García Lorca
Vladimir Mayakovsky
,
Heiner Muller
,
Georges Neveux
,
Oskar Panizza
,
Luigi Pirandello
,
Raymond Roussel
Tadeusz Rozewicz
,
Jean-Paul Sartre
,
Jean Tardieu
,
Ernst Toller
,
Boris Vian
,
Roger Vitrac
and
Stanislaw Ignacy Witkiewicz
Other individuals associated with avant-garde theatre:
Vsevolod Emilevich Meyerhold
,
Kazuo Ohno
and
Erwin Piscator
.
Kobo Abe (1924-1993)
A Japanese writer, director and photographer, Abe first gained notoriety for his novels
The Woman in the Dunes
(1962) and
The Face of Another
(1964). During the 1970s he founded an acting studio in Tokyo, where he trained performers and directed many of his own plays. Inspired, in part, by the imagery of René Magritte, Abe's highly physical productions often featured actors portraying inanimate objects, while exploring themes of alienation and loss of identity. Among his plays are
The Man Who Turned into a Stick
(1969),
The Suitcase
(1973),
The Green Stockings
(1974) and
An Elephant Calf is Dead
(1979).
Arthur Adamov (1908-1970)
Born in Russia, Adamov moved to Paris in 1924, where he developed friendships with Antonin Artaud and Roger Gilbert-Lecomte. He began writing plays after World War II, emerging as one of the central figures in the Theater of the Absurd. Much of Adamov's work analyzed his own dreams and neurosis, while examining humanity's futile attempt to find meaning in life. Among his early plays are
The Parody
(1947),
The Invasion
(1950),
Professor Taranne
(1953) and
Ping Pong
(1955). During the mid 1950s, Adamov rejected Absurdism, taking a more political approach, influenced by Bertolt Brecht.
Paolo Paoli
(1957) and
Spring '71
(1960) are two examples. The playwright died from a drug overdose, presumably suicide.
Guillaume Apollinaire (1880-1918)
Apollinaire was a French poet, writer and art critic, credited with coining the term
surrealism
. He was popular among the artistic community of Montparnasse, Paris, where he developed close friendships with Pablo Picasso, Jean Cocteau, Erik Satie, Marcel Duchamp and André Breton, among others. His play
The Breasts of Tiresias
(1917) carries on the absurdist tradition of Jarry. It was turned into an opera by Francis Poulenc in 1947.
Fernando Arrabal (Born 1932)
As a child, Arrabal experienced the tragic effects of war firsthand: His father, a Spanish loyalist, was captured by rebels and imprisoned. While attempting to escape, he disappeared, never to be heard from again. Perhaps this explains why so much of Arrabal's writing is laced with violence and degradation. His theatre is an examination of humanity's darker impulses. During the 1960s, with Alejandro Jodorowsky and Roland Topor, Arrabal formed the Panic Movement in Paris, where several of his plays were staged. Often blending pantomime, surrealist imagery and religious provocation, they include
The Automobile Graveyard
(1958),
The Tricycle
(1961),
Picnic on the Battlefield
(1961),
The Architect and the Emperor of Assyria
(1967) and
And They Put Handcuffs on the Flowers
(1969). A versatile figure, Arrabal has also written poetry, novels and opera libretti, as well as directed several films, most notably
Viva la Muerte
(1970) and
I Will Go Like a Crazy Horse
(1973).
Antonin Artaud (1896-1948)
A French poet, playwright, actor and director, Artaud is best known for his Theatre of Cruelty. He was a member of the Paris Surrealists during the mid 1920s, contributing several articles to their publication
La Révolution Surréaliste
. He also acted in the landmark films
Napoleon
(1927) and
The Passion of Joan of Arc
(1928). Artaud's plays include
Jet of Blood
(1925) and
The Cenci
(1935), while
The Theatre and Its Double
(1938), perhaps his most famous book, features manifestos and theoretical writing concerning the theater. Having spent much of his final years in various mental asylums, Artaud resurfaced in 1947 with a radio play
To Have Done With the Judgment of god
. Although the work remained true to his Theatre of Cruelty, utilizing an array of unsettling sounds, cries, grunts and screams, it was shelved by French Radio the day before it was scheduled to air, on February 2, 1948. Artaud died one month later.
Samuel Beckett (1906-1989)
Beckett was an Irish playwright, novelist and poet, whose play
Waiting for Godot
took the theatre world by storm in 1953. The "tragicomedy" explored humanity's will to survive, even in an incomprehensible world, and in the face of despair. Critic Martin Esslin coined the phrase "Theatre of the Absurd" in his 1962 book of the same name, which used Beckett and
Godot
as centerpieces. Other important plays from this period include
Endgame
(1957),
Krapp's Last Tape
(1958) and
Happy Days
(1960). In 1969, Beckett was awarded the Nobel Prize in Literature.
Bertolt Brecht (1898-1956)
A revolutionary poet and playwright, Brecht established many of the theories and conventions associated with epic theater. His early plays include
Baal
(1918) and
A Man's A Man
(1926), though his most popular works were his collaborations with composer Kurt Weill:
The Threepenny Opera
(1928) and
The Rise and Fall of the City of Mahagonny
(1930). Brecht fled Germany in 1933 after Hitler's rise to power. He lived in California during the 1940s, but returned to Europe in 1947 following his appearance before the House Committee on Un-American Activities. His later plays include
Life of Galileo
(1937-39),
Mother Courage and Her Children
(1938-39),
Schwyck in the Second World War
(1941-43) and
The Caucasian Chalk Circle
(1943-45).
Georg Buchner (1813-1837)
Woyzeck
, with it's fragmented structure and nightmarish atmosphere, was a precursor to German Expressionism and avant-garde theatre. Buchner wrote the play shortly before his death in 1837 at the age of twenty-three.
Robert Desnos (1900-1945)
Desnos was a member of the Paris Surrealist group, best known for his poetry and prose. His poetry collection
A la mystérieuse
(1926) and novel
Liberty or Love
(1927) are both important contributions to the movement.
La Place De L'Etoile
(1928), his only play, stands alongside the works of Artaud and Vitrac as one of the key Surrealist creations for the theatre.
Richard Foreman (Born 1937)
An avant-garde playwright, director and designer, Foreman has written more than fifty works for the theatre. In 1968 he founded the Ontological-Hysteric Theater in New York City, devoted to performing his own plays. Among his dramatic creations are
Angelface
(1968),
The Cliffs
(1972),
Classical Therapy, or a Week Under The Influence
(1973),
The Mind King
(1992) and
My Head Was A Sledgehammer
(1994).
Michel de Ghelderode (1898-1962)
Ghelderode was a Belgian avant-garde dramatist whose work often conjures up the nightmarish images of James Ensor. Among his plays are
A Night of Pity
(1921),
The Woman at the Tomb
(1928),
Chronicles of Hell
(1929) and
Red Magic
(1931). His 1934 play
Ballad of the Grand Macabre
was transformed into an opera by the composer Gyorgy Ligeti.
Ivan Goll (1891-1950)
Goll was a poet and playwright closely linked to both German Expressionism and early Surrealism. While in Paris, he developed friendships with Guillaume Apollinaire, Jean Cocteau and James Joyce, and wrote one of the earliest documents on Surrealism. His plays include
The Immortal One
(1918) and
Methusalem
(1922). In 1927, he collaborated with Kurt Weill on a surrealist opera
Royal Palace
, which premiered at the State Opera House in Berlin.
Eugene Ionesco (1909-1994)
A Romanian-born playwright, poet and critic, Ionesco is often placed at the forefront of The Theatre of the Absurd. Along with the works of Samuel Beckett, Ionesco's plays stunned the theatre world during the 1950s, examining the loneliness and incomprehensibility of human existence, as well as the triviality of daily life. Among his best known works are
The Bald Soprano
(1950),
The Lesson
(1951),
The Chairs
(1952),
The Killer
(1958) and
Rhinoceros
(1959).
The Bald Soprano
has been playing at the Theatre de la Huchette for fifty years now and is one of the most performed plays in France.
Alfred Jarry (1873-1907)
Jarry was a novelist, poet, essayist and philosopher, whose work (and invented science Pataphysics) was a forerunner to the surrealist writing of the 1920s. His trilogy of plays
Ubu Roi
,
Ubu Cuckolded
and
Ubu in Chains
(written during the 1880s and 1890s) was arguably the beginning of absurdist theatre, influencing numerous later works, including Beckett's
Waiting for Godot
.
Georg Kaiser (1878-1945)
Kaiser was a prolific dramatist, best known for his expressionist plays
From Morning to Midnight
(1912),
The Coral
(1917),
Gas
(1918) and
Gas II
(1920). His later works moved away from Expressionism, though he continued to collaborate with some of the most progressive artists and composers of the era.
Side by Side
(1923), first staged in Berlin, featured a design by George Grosz, while the opera librettos
Der Protagonist
(1926) and
The Czar Has His Photograph Taken
(1928), were both set to music by Kurt Weill. Kaiser's early writing had a strong influence on several German writers of the 1920s, including Ernst Toller, Bertolt Brecht and Yvan Goll.
Tadeusz Kantor (1915-1990)
A Polish writer, painter, set-designer and director, Kantor founded the theatre company
Circot 2
in 1955. Often experimenting with a combination of live actors and mannequins, his innovative productions gained recognition around the world. In addition to interpretations of plays by Stanislaw Ignacy Witkiewicz, Kantor created several original works, most notably
The Dead Class
(1975) and
Wielopole, wielopole
(1980).
Oskar Kokoschka (1886-1980)
Best known for his expressionist paintings, Kokoschka also wrote prose, poetry and pieces for the theatre. His short play
Murderer, the Hope of Women
(1909) is regarded by some as the first expressionist drama. Its premiere in Vienna featured violent, exaggerated movements by the performers, as well as lighting that flooded the stage with bold and vibrant colors. In 1919, composer Paul Hindemith transformed the text into a one-act opera. Kokoschka's other plays include
Sphinx and Strawman
(1909),
The Burning Bush
(1911),
Job
(1917),
Orpheus und Eurydike
(1918) and
Comenius
(1936-38).
Orpheus
, written while the artist was recovering from wounds during World War I, was set to music by Ernst Krenek and premiered at the Staatstheater in Kassel in 1926. Kokoschka fled Austria in 1934 after the Nazi takeover. His later years were spent living in Switzerland.
Federico García Lorca (1898-1936)
Lorca was a gifted poet and playwright, best known for his poetry collections
Gypsy Ballads
(1928) and
Poet in New York
(1930), as well as his trilogy of plays
Blood Wedding
(1932),
Yerma
(1934) and
The House of Bernarda Alba
(1936). During the early 1920s, he studied at the University of Madrid, where he became close friends with Luis Buñuel and Salvador Dalí. His plays most influenced by Surrealism are
The Public
(1930) and
When Five Years Pass
(1931). He also wrote a surrealistic film script,
Trip to the Moon
(1929), which is reminiscent of Buñuel's and Dalí's
Un Chein Andalou
, made earlier that year.
Vladimir Mayakovsky (1893-1930)
Mayakovsky was a leading poet, playwright & artist during the early years of the Soviet Union, best remembered for his long poems
The Cloud in Trousers
(1915) and
The Backbone Flute
(1916). His plays include
Mystery Bouffe
(1918),
The Bedbug
(1928) and
The Bathhouse
(1930).
The Bedbug
was performed in Moscow, directed by Vsevolod Meyerhold and featuring music by composer Dmitri Shostakovich. In 1930, Mayakovsky committed suicide, frustrated by life, love and politics.
Heiner Muller (1929-1995)
Muller was a dramatist, poet, writer, essayist and theatre director, regarded by some as the most important German playwright since Bertolt Brecht. During the 1990s he was artistic director of Brecht's former company The Berliner Ensemble. Among his best known plays are
Germania Death in Berlin
(1978),
Hamletmachine
(1979) and
The Mission
(1982).
Hamletmachine
was transformed into a modern opera by composer Wolfgang Rihm in 1986.
Georges Neveux (1900-1982)
A French dramatist and poet, Neveux is best known for his surrealist play
Juliette or The Key to Dreams
(1927). The work, set in a dream-like town where all of the residents have lost their memories, features a circular structure, something Beckett would employ in
Waiting for Godot
more than two decades later. In 1938, the composer Bohuslav Martinu created an opera based on the story.
Oskar Panizza (1853-1921)
Panizza's play
The Council of Love
(1893), which tells the tale of how syphilis came into being, landed its author in prison for blasphemy. In 1905, the former psychiatrist was placed in a mental asylum. A major influence on later Expressionists, Dadaists and Surrealists, Panizza was honored in one of George Grosz's most memorable paintings
Dedication to Oscar Panizza
(1917).
Luigi Pirandello (1867-1936)
Pirandello was an Italian dramatist, novelist and short story writer, who received the Nobel Prize in Literature in 1934. His plays
Six Characters in Search of an Author
(1921) and
Henry IV
(1922) explore the creative process, internal thought and madness. For some, they contain an absudist flavor, which would later be expanded by Beckett and Ionesco.
Raymond Roussel (1877-1933)
A French poet, novelist, playwright and musician, Roussel is best known for his eccentric novel
Impressions of Africa
(1910), which he staged in Paris in 1912. The production featured acts such as "The Dwarf Philippo whose normally-developed head equals in height the rest of his body" and "The one-legged Lelgoualch playing the flute made of his own tibia." Numerous future Surrealists, including André Breton, Philippe Soupault and Salvador Dalí, wrote articles about Roussel, hailing him as a father figure. In 1938, Dalí titled one of his paintings
Impressions of Africa
.
Tadeusz Rozewicz (Born 1921)
Rozewicz is a Polish poet and dramatist, whose writing often explores the tragic impact of World War II, as well as humanity's struggle with disconnection and loss in the modern world. Many of his plays feature fragmented structures, with elements of absurdism. Among his best-known works are
The Card Index
(1960),
The Witnesses
(1962),
Gone Out
(1964) and
The Old Lady Broods
(1968).
Jean-Paul Sartre (1905-1980)
A French Existentialist philosopher, Sartre also wrote novels, criticism and plays. His most famous work for the theatre is
No Exit
(1944), set in a room with no windows or mirrors, and only one door, presumably in Hell. Here, three captives are condemned to mentally torment each other, demonstrating that "Hell is other people." Sartre's other plays include
The Flies
(1943),
The Respectful Prostitute
(1946),
Dirty Hands
(1948),
The Devil and the Good Lord
(1951), and
The Condemned of Altona
(1959).
Jean Tardieu (1903-1995)
Tardieu was a poet and playwright, who also served as head of dramatic programming for French Public Radio. Often associated with the Theatre of the Absurd, his short plays and vignettes range from darkly humorous depictions of dreams, to wholly abstract works where dialogue is presented as music. Tardieu's dramatic experiments were collected in two anthologies:
Théâtre de Chambre
(1955) and
Poèmes à Jouer
(1960). Of these pieces, a handful have been translated into English, including
The Contraption
,
The Keyhole
,
The Enquiry Office
and
The Underground Lovers
.
Ernst Toller (1893-1939)
A German playwright, poet and political leader, Toller is best remembered for his expressionist plays
Man and the Masses
(1921),
The Machine Wreckers
(1922) and
Hoppla, We're Alive!
(1927), the latter staged by Erwin Piscator in Berlin. In 1934, Toller's impressive autobiography
I Was a German
was published. Five years later, he hung himself in a New York City apartment, depressed by financial woes and news that his family in Europe had been arrested and sent to a concentration camp.
Boris Vian (1920-1959)
Vian was a central figure in 1940s Paris, gaining notoriety as a novelist, poet, playwright, critic, philosopher, actor, singer and jazz musician. His best-known work for the stage is
The Empire Builders
(1959), which calls to mind the absurdist works of Ionesco, while examining mortality and Man's inescapable path toward death. Shortly before the play's premiere, Vian suffered a fatal heart attack at the age of 38.
Roger Vitrac (1899-1952)
A French Surrealist poet and playwright, Vitrac, along with Antonin Artaud, formed the Alfred Jarry Theatre in Paris during the mid 1920s. Two of Vitrac's best known plays were presented there:
The Mysteries of Love
(1927) and
Victor or The Children Are In Power
(1928). The later is now considered a key play in 20th Century French theatre.
Stanislaw Ignacy Witkiewicz (1885-1939)
A writer, photographer, philosopher and painter, Witkiewicz was a leading figure in the Polish avant-garde during the 1920s. He wrote numerous plays, including
The Water Hen
(1921),
Metaphysics of a Two-Headed Calf
(1921),
The Madman and the Nun
(1923),
The Crazy Locomotive
(1923) and
The Mother
(1924). While fleeing the Nazis in 1939, he wandered into the forest and slit his wrists. His work inspired a number of future theatre directors and playwrights, most notably Tadeusz Kantor.
Other Individuals Associated With Avant-Garde Theatre
Vsevolod Emilevich Meyerhold (1864-1940)
A Russian theatre director, actor and producer, Meyerhold founded his own theatre company in Moscow in 1922. Many of his productions featured Constructivist sets, strong political messages, and the use of biomechanics, a physical, circus-like approach to performing. Among his most important stagings were productions of Vladimir Mayakovsky's
Mystery-Bouffe
(1921),
The Bedbug
(1929) and
The Bathhouse
(1930), Fernand Crommelynck's
The Magnificent Cuckold
(1922) and Alexander Sukhovo-Kobylin's
Tarelkin's Death
(1923). Frequent collaborators of Meyerhold included Mayakovsky, artist Aleksandr Rodchenko and composer Dimitri Shostakovich. In 1938, Meyerhold's theatre was closed by Joseph Stalin and the director was arrested and tortured. He was executed by firing squad, presumably in 1940, though the exact date of his death is unknown.
Kazuo Ohno (1906-2010)
A Japanese dancer and originator of
Butoh
, Ohno performed in white makeup, transforming his body into an array of grotesque forms. Born out of the horrors of World War II, and inspired by writers such as Mishima, Lautréamont, Artaud and De Sade, Butoh delved deeply into the worlds of darkness and decay, featuring dance movements and physical transformations that were dream-like and haunting. In 2006, Ohno celebrated his 100th birthday. Though confined to a wheelchair, he continued to run a studio, teaching the art of
Butoh
.
Erwin Piscator (1893-1966)
Pisactor was a German theatre producer and director, who, along with Bertolt Brecht, helped lay the foundation for
epic theater
. His productions in Berlin during the 1920s blended films, music, mechanized sets, lectures, and strong left-wing politics. Perhaps his greatest achievement was his 1928 stage adaptation of the Czech novel
The Good Soldier Schweik
, which featured projected images by artist George Grosz and contributions by Brecht. During World War II, Piscator worked briefly in the Soviet Union, before emigrating to the United States, where he taught at the New School for Social Research in New York City. He returned to Germany in 1951.
All of the biographies and book lists found on this site, as well as texts found on the HOME, HISTORY, COMMENTARY &  PERIODICALS pages, are the sole property of
Surrealism-Plays.com.